Profile

In the Forests, in the Seas
Let's all do the monster dance!

About

Mini Bio
Sea witch, STEM bitch, alien of letters, still clinging to a '90s goth aesthetic.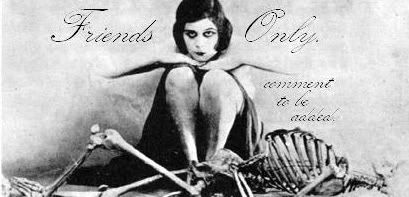 Formerly jessichaos/chimaeriste at LiveJournal, (way back in the misty before-times; since deleted), and
A Clockwork Naturalist
on tumblr, (still technically there, but I don't use it). If you knew me at either of those places, feel free to know me here. If you didn't, ehh, I'm sure we can work something out.

Connect
algernon blackwood
,
ambrose bierce
,
andrew bird
,
animation
,
arachnids
,
art nouveau
,
autumn
,
bauhaus
,
blade runner
,
bonfires
,
cabinets of curiosities
,
caitlín r. kiernan
,
carnivorous plants
,
carnivàle
,
cats
,
cephalopods
,
charles addams
,
charles fort
,
children of men
,
china miéville
,
civil rights
,
cnidarians
,
coding
,
coen brothers
,
comedy
,
conservatories
,
cooking
,
criterion collection
,
crustaceans
,
daphne du maurier
,
dark city
,
dark fantasy
,
dark mori
,
david bowie
,
dead man's bones
,
death country
,
devotchka
,
dim sum
,
dinosaurs
, echinoderms,
edgar allan poe
,
edward gorey
,
eels
, elaborate playlists,
elizabeth hand
,
elliott brood
,
elliott smith
,
ethnomusicology
,
fairy tales
,
filmmaking
,
firefly
,
folklore
,
fungi
,
gothic
,
gotye
, grace krilanovich,
guillermo del toro
,
h.p. lovecraft
,
halloween
,
hausu
,
hayao miyazaki
,
hellblazer
,
hellboy
,
history
,
holly black
,
hot pot
,
how did this get made
,
iggy pop
,
j. sheridan le fanu
,
japanese food
,
jeff vandermeer
,
john cale
,
john maus
,
kelly link
,
kishi bashi
,
knitting
,
korean food
,
lake monsters
,
letterboxd
,
librarything
,
lore podcast
,
m.r. james
,
mandy
,
maximalism
,
miroslav holub
, moody space boyfriends,
movies
,
murder ballads
,
mushishi
,
mythology
,
naturalism
, necronomicon providence,
neil gaiman
,
neko case
,
nick cave & the bad seeds
,
owls
,
photography
,
pj harvey
,
preacher
,
pretty deadly
,
ramen
,
roman history
, rome hbo,
roxy music
,
rufus wainwright
, running with the wolves,
sarah vowell
,
scientific illustrations
,
screenwriting
,
shakespeare
,
shearwater
,
shirley jackson
, sichuan cuisine,
slim cessna's auto club
,
songs: ohia
,
sophe lux
,
sorry to bother you
,
star wars
,
succulents
,
sufjan stevens
,
t. rex
,
taiwanese food
,
talking heads
,
the addams family
,
the cure
,
the czars
,
the decemberists
,
the eleventh doctor
,
the forest
,
the handsome family
,
the pogues
,
the replacements
,
the sea
,
the stooges
,
tom waits
,
travel
,
trilobites
,
twin peaks
, unspooled,
unusual plants
,
vietnamese food
, waldstilleben,
walpurgisnacht
,
weird fiction
, weird musicals,
wes anderson
,
wilderness
, william hope hodgson,
witchery
,
writing

People
[View Entries]

Communities
[View entries]

Feeds
[View Entries]

Subscriptions (0)

Linking
To link to this user, copy this code:
On Dreamwidth:
Elsewhere: